Wergeland postcard on eBay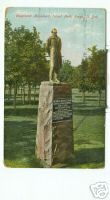 I've spent some time the last week on testing eBay-Opera compatibility, and since it is this time of the year, this auction was just the one to bid on. Opera behaved perfectly, eBay too, and today the postcard arrived, old and sepia-toned with the North Dakota Wergeland sculpture in green hues. It was originally sent from Fargo to New York in July 1909.
Makes me wonder who set up a Henrik Wergeland memorial in North Dakota..? It must obviously be related to the Norwegian migration to the U.S. mid-west..