Naoshima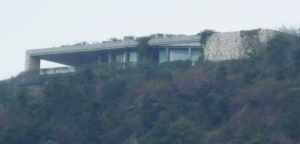 A family travel letter - to the family
Firstly, the journey. Thank you for using the train even though it was harder work and slower. Switching from car to train changed the way we were travelling together. The atmosphere became more relaxed, with small talk and food sharing. While waiting for the next train, we would play together in interesting spaces. Suddenly, we could enjoy the journey, not just the destination. Harder work, more memories.
Naoshima is an island known for museums and art projects. We went to see several of them.
The Benesse art museum was a scary place - well, we brought no less than four fast-moving, impulsive 1-5 year old children. Actually, I didn't realise how scared I had been until I had architecture-induced nightmares about children falling off tall concrete stairs with minimal rails the following night. The museum was a space of soft brutality in curved concrete shapes, and definitely not safe for children. How parents are supposed to be able to watch art in such a building, I don't know..
Surprisingly, I do remember some of the work on display.
The world flag ant farm
A large grid of boxes mounted on the wall contain the flags of the world's nation states. The boxes are connected by small tubes. The flags are perforated by big holes and tunnels, created by ants that were let loose inside the boxes and tubes, digging through the flags, moving grains of sand and colour from one flag to the other. Their activity has been interrupted - there are no live ants left in the artwork, but some integrated video screens show them at work.
The effect is a bit unsettling. I'm left wondering if I should read it in a negative or positive way, is it making a statement about globalization, migration, or about our fundamental ambivalence regarding those developments?
It's not a theoretical question, it is a personal one. In my life, I am such an ant. I'm taking a piece of Japan to Norway and possibly channelling influences back...
I decide that the work is a bit too negative. The "destructive" connotations of ants too strong and the imagery of damaged flags too ugly. I would prefer to believe that new and meaningful patterns emerge from migration, also within the often benign frameworks of national identity. Culture doesn't evolve randomly - it seems random because of its complexity, but development is ultimately determined by what we as individuals value.
The secret of the clouds
The work is outside on the ground: two huge, gorgeous, round stones, polished and deepening in the center like big "sacco" pillows. But what I actually remember them for is watching a museum guide - in a dark suit - wipe one of the large stones after his guided tour. The back of is suit had an obvious wet spot. During his guided tour, he demonstrated the artist's intention with the work: that you could lie on your back on the inviting stones to watch the sky. Unfortunately, he had been unaware that the clouds had decided to share some of their secrets that morning.. He was now preparing his next tour, wiping the rain off the sculpture. Behind his back, my gaze secretly turned his actions into a performance he was not aware of. A performance about how we still prefer some distance between art and life. Even - or especially - in a museum..
Art house: sea of time
The "art house" project has turned several of the town's old buildings into art projects. The "sea of time" house appeared to be a traditional, brown, Japanese house. When we enter, we find a dark room filled with water. Underneath the surface are small boxes with constantly changing digital numbers. The shivering water makes the dead LED numbers seem alive. The effect is so mesmerizing that most visitors take their shoes off, enter the narrow walkway by the wall, and sit down to watch.
Time and water. We have so many phrases and images comparing them. Time flows, it washes, it is a river and so on. All these images are dynamic. Yet, the "sea of time" invites us to consider the stillness, the silence of time. It also makes me think about how time surrounds us and how fragmented our understanding of time is, as fragmented as the randomly scattered numbers in the sea..