For Rashpal - in memoriam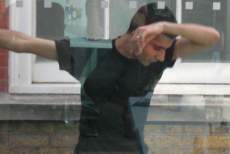 I remember Rashpal's kind thoughtfulness and VERY generous smile.
I remember early EDge rehearsals, watching parts of Wayne McGregor's choreography "Phase Space" transferring itself from a person in a video onto Rashpal's very different body. Rashpal had a big solo in that piece, and the movement came across with a beautifully effortless sincerity. I probably never expressed my admiration for the work you were doing, assuming you knew its quality - and all of a sudden, you left the group. I never saw you struggle, Rashpal - this is an apology! I never saw that. I never knew why you left us, but I really wish I had found those words back then - now the words of admiration finally came but you are gone.
We were never what you might call close friends - but somehow I knew that you were a person I would not hesitate to trust. That says a lot about you.
Now you have suddenly left us, once more. Rest peacefully, Rashpal. Yet the memories of you won't rest in peace - they will dance, move and inspire us.
Photo borrowed from The Place's Rashpal memorial page.