Sunday menu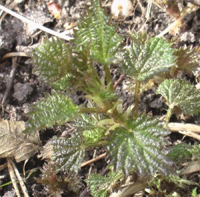 Today's menu: cod in basil and nettle sauce, baked potato boats with herbs, caramelised vegetables with lime and grated carrot with grapes.
Dessert: homemade sorbet with strawberry, banana, melon and mango.
I cut the potatos in 8 and scattered the pieces on a baking tray with some oil. While I used thyme, oregano and dillweed almost any herb will be delicious with baked potato. Make sure the pieces are moved/turned some time while being baked - perhaps add some butter and more herbs while at it.
The main course was based on a recipe from the food magazine Nord. Starting from a fish stock, reduced somewhat with lots of basil, some nettle (not in the original recipe) and pressed garlic. Add creme and use a food processor or mixer to smoothen. Add frozen peas and cod fillet, keep warm until fish is ready to eat.
For the caramelised vegetables, I melted some brown sugar in a pot, squeezed over some lime juice and added finely chopped onion (we used both red and yellow) and carrot. Stir often.
Finally we grated some organic carrots and threw in a bunch of grapes while grating. It turned out to be a wonderful Sunday dinner - basil and nettle with cod was a real treat.