Views of advertising to children in Japan and Norway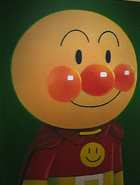 There are many obvious differences between two countries like Norway and Japan. But sometimes it takes a long time to see the interesting differences..
In Japan children are very fond of a cartoon-like figure called Ampanman. His bubbly face appears everywhere: children's toothbrushes and toothpaste, balls and toys, bikes, books and learning equipment.
At first I found it puzzling that parents did not feel negative about this advertising. Instead, they teach children his name, play with the toys and generally integrate him as part of the children's culture.
To me, this was sort of unnatural - because I come from a country which has Europe's strictest rules against advertising products to children:
Advertising children's products is completely banned from TV and radio.
In other media, advertising to children is legal but regulated by the Consumer Ombudsmann based on principles like
it must be easy to distinguish between advertising and other content. It is forbidden to exploit children's trust, lack of experience, lack of disbelief or the fact that they are easily influenced for commercial purposes.
Trying to use a children's cartoon figure to sell toothpaste would blur the lines between advertising and cartoons, and would thus likely be banned in Norway. The ombudsmann maintains detailed guidelines (pdf) including a list of cases where firms large and small have been fined or ordered to stop advertisment campaigns because they were found to be violating the guidelines.
Ideally, laws are created from a society's concerns and attitudes, and may in turn re-inforce said attitudes. Hence I'm probably more concerned about commercial influence on my children than Japanese parents, and to me this very subtle difference in attitudes is very interesting - it makes a real difference to the experience of living in either country.