A vision for St. Hanshaugen?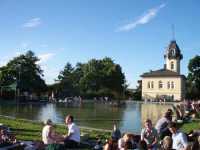 At a scenic hill and close to the center of Oslo, St. Hanshaugen is a beautiful park, but on a closer look much of its inventory gives a somewhat "worn" impression. The playgrounds look dated. At times there are rubbish problems, particularly with broken glass near the open-air pub, and sad looking signs near the shallow, child-friendly pool warn that the water quality is nobody's responsibility.
Elections to the local government are coming up. Hereby I would like to notify whomever it concerns that there is at least one vote - mine - to gain for the local politican who can present a comprehensive vision for improving St. Hanshaugen. Don't forget to visit Sofienbergparken or Frognerparken to look at their new, creative playgrounds, or go to Huk to admire their lovely public steel BBQ which can replace the "burn-and-bin" use-once grill. Give us a realistic budget for the costs associated with being able to guarantee clean water for swimming children, and a realistic plan for getting hold of the required financing! I'm sure this is a cause which can win many voters over, and alienate very few..
<<: Links on speech and movement -- Dance and leaky abstractions >>