Fruit salad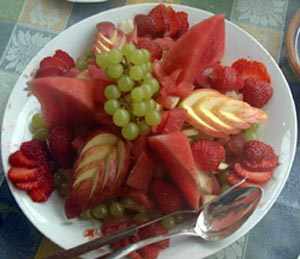 You need...
1 water melon
Grapes (seedless much preferred)
4-5 Nectarines
Strawberries
1-2 Apples
Do this...
The rising "spears" are water melon, the "body" consists of sweet grapes and sliced nectarine, some more water melon and strawberries.. Apples and more strawberries for decorations.
It doesn't take that long, and looks hm.. impressive.. :-) I served it with mango-sauce: run lots of mango with some yogurt in a food processor..