Alf-Eivind on Vesle-Hans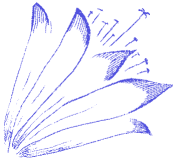 Alf-Eivind loves listening to stories and fairy tales - at least those that aren't considered "too scary". Just slightly older than three years old he has no problems following longwinded, complex stories like Den grønne votten (by Alf Prøysen), Thumbelina, Grantreet - and even the fairy tale above all other tales: The snow queen (all by H. C. Andersen). Even his father was impressed by the latter.
One day he was just below three and a half years old (my sound file is dated March 6 2008) I heard him tell a long, elaborate story about a drawing with many lines and squiggles. It was about Vesle Hans (a children's poem by Henrik Wergeland which he has seen as puppet theatre) and as the tale progressed many other fairy tale and fantasy characters emerged. I sort of got him to repeat the story for a recording - perhaps not told with the same flow and momentum as the initial version, but still an amazing glimpse of rich, story-telling-nourished child imagination at work. I have made a transcription and translated it into English. You can also listen to the recording (though it is naturally in Norwegian). Regrettably, some things are inevitably lost in translation - especially his erratic grammar and sometimes peculiar wording.
For an international audience, I should probably start with a brief summary of the Vesle-Hans poem: Hans is a young boy walking into the woods to find firewood for his grandmother. He worries that she will be cold and hungry when she can't light a fire. In the wood, he is scared by thoughts of bears and wolves but gathers a pile of branches. He realises that he has become lost but a squirrel helps him find his way home. When his grandmother welcomes him she notices that the dead branches have leaves and flowers despite it being mid-winter, a miracle that expresses the boy's love for her.
Now, the transcript of Alf-Eivin's Vesle-Hans tale (he's constantly referring to his drawing):
- Here it says Vesle-Hans, and there it says Vesle-Hans's wife. This is my letter.

- So, what did Vesle-Hans do?

- He found a small baby bear, and a small baby bear-lion.

- Baby-bear-lion?

-Yes!

- Wow. Was he scared?

- No. It was.. the baby bear said... the baby bear said.. the baby bear said NOTHING!

- He said nothing?

- No, the baby bear said nothing. So he heard nothing. But he was a bit more.. he had to go to the forest and find branches, and the ugly duckling.

- He found the ugly duckling too in the forest?

- Yes. And he found branches for granny. They flew down. But then he came to the fox. And then he came to the small baby bear, and then he came to the small bear lion.

- Did he meet even more animals?

- Yes. But he met a kantsasse.

- Kantsasse?

- It's called kantsasse.

- Is kantsasse an animal?

- No. I'm going to write this at right, right. Like that. Then he met a kantsasse which was for playing with. He plays with many toys. Then he walked again. Then he called to the ugly ducking, you know. So the ugly duckling became happy when he called to the ugly duckling. But the ugly duckling had to go to granny's house. Here it says granny's house and here it says granny and here it says Vesle-Hans and here it says the small bear and there it says the lion which fell down the stairs which was big. And Thumbelina was scared when the small baby bear - it said it was nice. So it was the small baby bear which fell down the small stair case which was made to slide down. Thumbelina joined him too. So Thumbelina is sliding down the stairs again and again. And there was an old kind Santa who was also sliding down.

And the entire wood was full of trees, on the snow on the branches. He met a small wife. It was an old one, it was Vesle-Hans's wife. She also lives there at Vesle-Hans's house. And she lives in her house. There it says granny's house for Vesle-Hans. And there it says to.. to auntie Matja Dise. To Olafur Gunnar. To Matja Dise. That's right. Now I have to fold it.
I guess we read quite a lot more for him than many other families do, and more advanced literature - but it sort of sounds like we're doing something right ;).