Duet with threads (working title)
Diary from the creation of a site-specific piece performed in the "Media Court", Tokyo museum of contemporary art on November 24th, 2001. (new entries and reader comments at the bottom)
Add a comment to this webpage!
Birth of a dance piece
October 20th Something about this space is very pale. The overwhelming walls of stone and metall make it seem impossible to call attention to a human being - whatever movement one does seems small.
Yet, here we are, after bothering security staff to get access to a strange no-man's land in the heart of Tokyo Museum of Contemporary Art called "Media Court", in the outdoor space we are supposed to create a site-specific piece for. We have about one month.

Choreography in progress: studying audience sightlines.
First visit - taking in as many impressions as possible... How can we work with or against this space, take it in or reject it, relate to something that seems like it can't be bothered relating to us? What do we want to say in this void but interesting shape? A site-specific is not only the ideal format for poor dancers without money to hire theatres or names that make the theatres hire them, it means challenging a space that doesn't lend itself to performance.. A stone wall, a metal wall, a glass fence and a spiral staircase. The metal wall is the most interesting, filled with holes and small buttons that make noise when hit.
Our first time
It is the first time we are creating a performance together. None of us expected this opportunity so soon. The piece should be allowed to be about us. On the other hand, I'm too aware of the loneliness of others to want to speak to loudly of our love.
What I want is to speak fondly of the strange and convoluted pathways that happened to bring two people from opposite sides of the planet together. I would like to fill the greyness with warm and visible paths of human beings. What about that as a basic theme for a piece?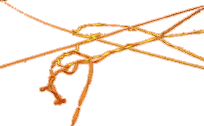 Pathways from rehearsal
Rehearsal
October 29th Miracles do happen! We have a rehearsal studio!
On Futako-Shinchi tube station is an old and faded advert for "Matsuo Ballet Studio". I brought me to the nearest training opportunity, only about 8 minutes from our house. In the first class I had only two co-students and they were about 12 years of age, but the class was good training and the incredibly generous aged sensei running the studio did not even want payment!
I brought my sweet language interpreter to discuss studio hire. To our amazement we were given free access any time except for the two weekly classes, and sensei still didn't want money. "I will let you play!" she smiled and gave us a studio key. Well, God bless you sensei - your generosity is a greater support than we could ever dreamt of. We have a dance studio! It can't be true! - but it is...
Pathways

Choreography in progress: planning floor patterns.
November 3rd How do we visualise pathways? I want colours to contrast the paleness and metallic taste of the space. We travel for ages on the tube to get to areas with textile and clothes shops. I want a thread that can appear from the costume and mark the distances travelled.

Choreography in progress: imagining how the thread may work.
After rummaging through the entire textile shop we decide on two 50m rolls of yellow and orange band. Solid, heavy stuff that will be a practical nightmare to hide in the costume and rewind after every rehearsal. But it must be visible in a huge space.
Music
Early November Something with metal? I'm afraid my taste in music is not very metallic. How can we find something that goes with the space?
Music choice is a mind-boggling problem until one evening, I'm working and has put on a CD with jew's harp music, she comes in and says
"Is that what you want?"
"What?"
"For the piece.."
Of course. Brilliant. Found something that sings creative use of metal and links now to history through the threads of tunes. Sometimes you need the obvious pointed out. I choose a cut with a travelling theme - aptly named "The wanderer" - where the tune really seems to be on a never-ending journey. It is only 2 minutes so I need to loop it three times to get enough music, I also choose to slow it down slightly to have a less self-confident rhythm to work on.
Movement
November Moving, travelling, diagonals, searching or surveying space, trying to make movement fit with both unruly threads and music.. We both enjoy contact improvisation and doublework, so lifts are an obvious ingredient. In this dance style "smooth"ness and flow is the ideal. We come up with a movement, reproduce it if possible, ask each other "can we make this smooth?".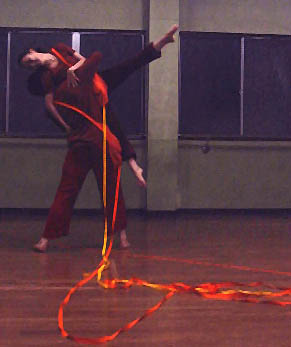 Rehearsing in Matsuo
November 18th The piece seems to come together - we only need an end. We even had to cut away some movement because it was getting too long...
November 19th We do have an end - after one of the most tired rehearsals we have ever had. I was worried about injury risks when tired and suggested we go home to rest, but she refused to leave the studio until we had and idea how we wanted to end the piece.
November 21st The performance is organised by the dance professor in Harumi's old university, Setsuko Ishiguro. Three pieces will be performed, one choreographed by Ishiguro herself, one solo and us. This evening all involved gather at Ochanomizu University for a grand rehearsal of all pieces. This means that for the first time someone will watch the movement that has accumulated as we "played" in Matsuo studio...
It is a somewhat nervous occassion, and we do not perform perfectly (I'm not sure if such a thing as a perfect performance is possible..), one lift fails obviously and one "error recovery" after a forgotten movement is less than smooth.
But we did it, and it is good to get some feedback from "outside eyes" at last. Professor Ishiguro has very clear comments - the most useful feedback often points out things you are semi-aware of but haven't given enough consideration: why does the piece use so much less space in the duet part than in the solos? Why do I not "show" all of my movement, but move through some of it as if I wanted to get finished? How can we balance the visual strength of the thread with strength of movement?
To go: one rehearsal on our own tonight, one in the space on Friday and general rehearsal before the performance on Saturday..
Piece
The piece is roughly one half interwoven solos, one half duet. In parts of it we are trying to use that space specifically, but we still don't know how it will work since first rehearsal "on location" is on Friday. For that rehearsal we will also hopefully have the final version of the edited music. Because of the time pressure there has been very little opportunity for the time-consuming process it is to set movement with music in detail, so it will take a bit of improvisation with the new edit to use the music well. We still need to buy metal thread to fix the band to the wall.
At this stage the nerves keep the piece running through your mind, always asking.. Which are good and not so good moments? What will it say to the audience and will it say something we don't want it to say? Are the ideas interesting enough to keep people's attention?
November 23rd First rehearsals in the actual performance space. It feels great to see the movement fit into the space we have tried so hard to imagine it in, but of course there is lots of re-spacing and movement enlargement problems because the performance area is so much larger than the studio... Anyway, I think we are ready for tomorrow!
November 25th We did it... It was a fairly good performance. The trickiest movement was not quite smooth (got caught in the thread, happened only once before in the first rehearsal...) but I think we covered it quite nicely.
I'm not sure if the audience could understand the ideas behind the piece. But I'm sure that we learnt a lot from making it - about dancing, about each other and about working together under pressure.
And about tidying up tangled threads ;-).