Cast in stone
Mavin Khoo and Christopher Bannerman, Purcell room, September 15th 2000.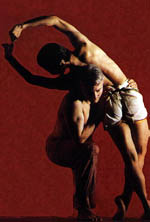 Bravely the former London Contemporary Dance Theatre lead Christopher Bannerman is returning to the stage again in a duet with Indian / Classical / Cunningham -trained marvel Mavin Khoo. They work within and across their traditions, trying out stylistic combinations framed by a range of Indian traditional and contemporary music.
Their duet, "Cast in stone", is inspired by sculptures, and Khoo's body takes on sculptural qualities as it is moved, lifted and supported by Bannerman. Most of the duet consists of Bannerman's initiation of movement or manipulation of Khoo's posture, and his responses. Only in a few instances Khoo takes the active role. This gives the duet a kind of bias, a one-sidedness which makes it very tempting to read in personalities instead of looking at their work with styles and tradition. Similarly, Bannerman is never lifted - one of the reasons may be his weight, but there is no doubt that Khoo could lift him if he looked into doublework-technique.
Bannerman seems a hair slow and less technical next to Khoo - but then, who wouldn't, compared to the piercingly clear and fast Indian dancer.. The greatest difference is seen in the facial expressions. Khoo's Indian expressions are highly stylised, whether neutral or going through series of small facial muscle gestures. Bannerman has only one look throughout: a serious-minded mask showing his concentration so clearly that it compared to Khoo's versatility seems strained. The contrast highlights the absence of facial focus in Western dance training.
Overall, the piece was a fine attempt at combining different cultures' dance heritage, magnificently lit and well worth watching. However, the "active vs. passive" shape of the piece made the mixture of traditions seem like a mixture of oil and water; not really blending equally to form a finished piece.